A month ago, Stacey at Create a Balance, hosted a group writing project on How to Practice the Art of Life Balance, and I'm glad to be among more than 30 other bloggers that participated in this effort.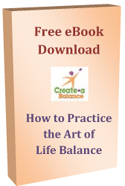 If you are interested in finding a balance for your life, you can download this eBook for free. My post "
Reach for Life Balance
" won the Getting Your Groove Back eBook prize. Imaging my surprise, and feelings of honored!
As mention earlier, there were more than 30 writers participating in this project. Each one has his or her own way to incorporate balance into their lives; therefore, you will definitely learn some new things from their perspective.